Zap-Map has launched two peer-to-peer EV charging networks – Zap-Home and Zap-Work – designed to allow charge point owners to share their devices with other EV drivers.
Following responses from Zap-Map users and our EV charging surveys, almost 50% of EV drivers are willing to share their home charge point with other users.
This means around 60,000 EV charge points could potentially be added to the Zap-Home network, dramatically expanding the EV charging infrastructure available to other registered Zap-Map users.[1]
Zap-Home also gives unit owners the option to bring in some income from their charge point. Having registered their charge point on Zap-Home, unit owners can set a cost per charge to cover costs if they wish, with users able to pay easily and securely via PayPal.me.
Points on the Zap-Home network will be displayed on Zap-Map, but only registered Zap-Map users will be able to see contact details. Those wishing to use a Zap-Home point can then contact the unit owner directly to arrange a charge.
Complementing Zap-Home is Zap-Work, a network with a similar ethos but aimed at small business owners. Feedback to Zap-Map shows that more than 30% of workplace charge point owners are willing to make them available to other EV drivers to use.[2]
Targeted at businesses and organisations not already part of an established network, Zap-Work points are available for other Zap-Map users to view, again with direct contact possible to organise payment and access requirements.
Zap-Work locations have the potential to provide regular charging options to EV owners that don't have access to off-street parking or a home point. In return, workplace charge point owners would see the costs of installation recovered faster, with the option to charge non-company users for the amount of electricity used.
Commenting on the launch Dr Ben Lane, CTO at Zap-Map said: "We are delighted to be bringing Zap-Home and Zap-Work to the UK EV market in response to the growing demand for charger sharing services.
"Of our 60,000 monthly userbase, we know that around half are willing to share their home point with other Zap-Map users. Businesses are particularly proactive with 5% of workplace charging points already being shared, either for employee use or as part of improving customer service."
COO Director Melanie Shufflebotham added: "Zap-Home and Zap-Work complement the UK's rapidly expanding public EV charging infrastructure, confirming the country as one of the world's leading plug-in car markets.
"Zap-Map will continue to innovate in 2018 with new product features, more dynamic data partners, and additional buying tools to help drivers make the transition to EVs, and to maintain our position as the UK's No.1 EV charging platform and network aggregator."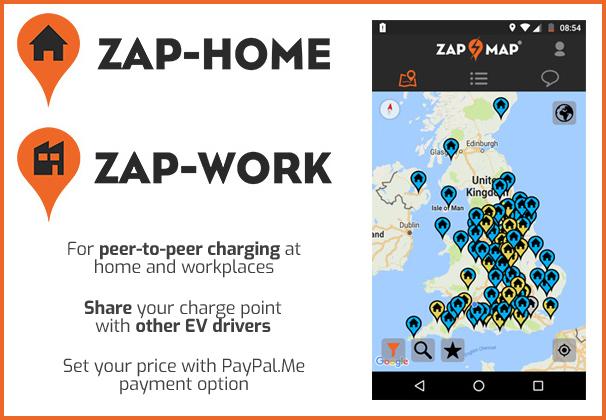 Find out more about Zap-Home and Zap-Work on the respective network charging guides.
 
[1] Figures sourced from Zap-Map Survey 2017, which revealed that 48% of Zap-Map EV drivers would consider sharing their home charger (2,198 completed surveys). Also based on UK EV parc approx. 135,000, and assuming 92% of respondents have home charger.
[2] Figures sourced from Zap-Map Survey 2017, 31% of businesses would consider sharing their workplace charger.
 
Image courtesy of Andersen EV