Whether you're escaping the kids, delaying another viewing of Love Actually, or you simply want to get out the house and do something a little different, below are some of the most romantic drives in the UK, with some EV charging info thrown in too if you're new to driving an electric car.
From locations such as the Snake Pass in The Peak District, through to the Three Lochs Forest Drive in Scotland and Bourton-on-the-Water in The Cotswolds, there are myriad options from which loved-up drivers could choose.

The most romantic drives in the UK
In no particular order, and with input from some of the motoring experts at LeaseCar.uk, here are some most romantic drives in the UK for couples to visit some of Britain's most scenic destinations.
Croyde Road, Devon
This short road overlooking the North Devon coast has a breath-taking view of Croyde Bay. Of course, Croyde is a popular destination itself, not least for couples wanting to camp under the stars or take a stroll along the coast path.
The screenshot below shows rapid chargers only on the approach to Croyde, for those looking to charge up quickly 'en route'. Don't forget you can filter by charger speed on Zapmap using the handy 'Power type' slider in the filters.
As you can see, Zap-Pay partner Osprey has been rolling out quite a few rapid chargers recently in the West Country, with devices located in Lynton, Ilfracombe and Barnstaple. You'll also find a few InstaVolt and bp pulse charging locations in and around Braunton and Barnstaple too.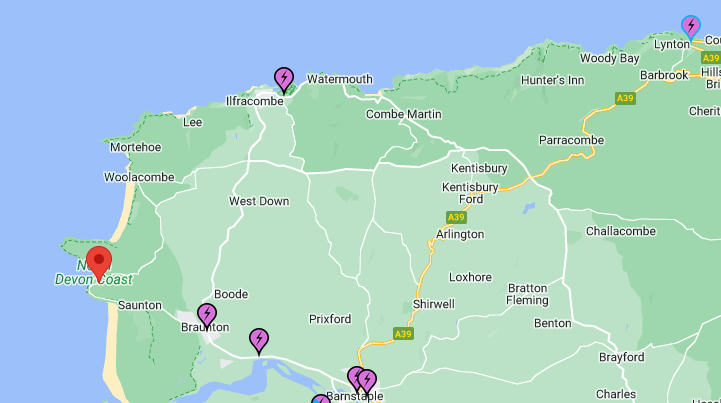 If you're stopping over in Croyde or Woolacombe for a meal and a stroll, remember you can also use the Power type slider to filter for slower charging options, which will allow you to top up the battery while staring into your lover's eyes over a shandy.
There are a few of these options at car parks in both Croyde or Woolacombe. Bear in mind you can also use Zapmap's 'Access' filter to sift out any chargers with access restrictions.
Bourton-on-the-Water, The Cotswolds
Bourton-on-the-Water is often referred to as the Venice of The Cotswolds. With low-slung bridges over tranquil waterways, it's easy to understand why. It's certainly a popular spot for couples across Britain to visit after coming off the A429. With scenic views and plenty of restaurants to choose from, you could also enjoy a coffee at a local cafe or even a picnic by the river.
There a number of rapid chargers in the wider area if you're looking to fill up en route, from InstaVolt on the way out of Cheltenham, Osprey on the A417, or EB Charging in Moreton-in-the-Marsh and Cirencester.
If you're just topping up while enjoying lunch or walk, there are a few slower 'destination' chargers around too, as you can see in the screenshot below – at the Co-op in Bourton, or the Tesco in neighbouring Stow-on-the-Wold (also a pretty stopover).
Snowdonia, Eryri National Park, Wales
Snowdonia, or Eryri, is the largest national park in Wales and is often praised as one of the most scenic places in the UK.
With camping sites dotted across the park if you're visiting in the warmer months, a visit of a few days is definitely worthwhile in order to truly absorb the beauty of the area.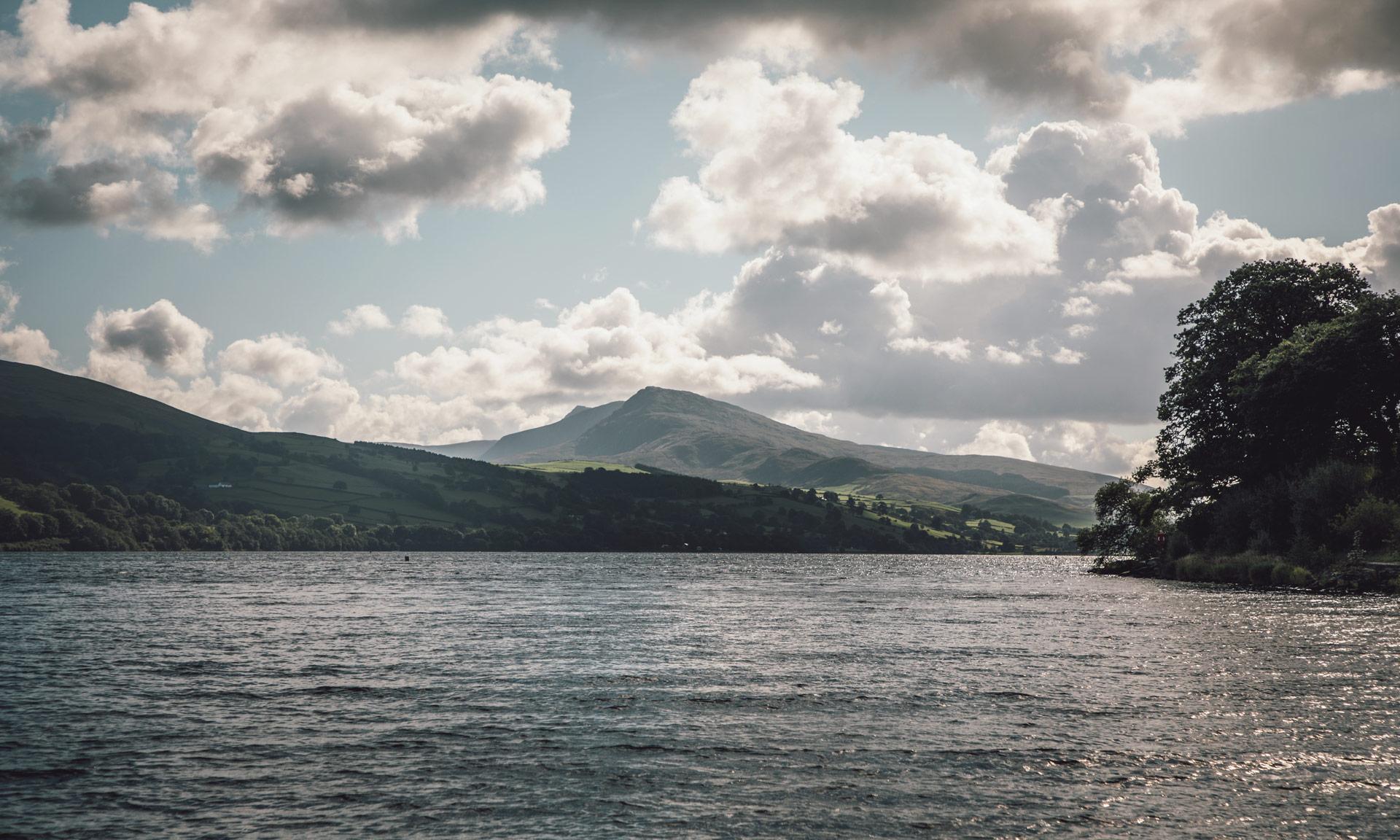 While rapid chargers are fewer and further between in this part of Wales, there are nonetheless some useful destination chargers at locations where you are likely to stop over for a night or a bite to eat.
Indeed, you could use Zapmap's route planner to help you find chargers in Tal-y-Bont on the coast, as well as devices in the heart of the park on the A470 – for example, at Coed y Brenin, home to Britain's largest mountain biking centre – and charging locations around Wales' largest natural lake, Llyn Tegid.

Snake Pass, The Peak District
For countryside lovers, the Snake Pass is the perfect chance to see some incredible landscapes. The road twists through heathland and drystone walls past deciduous woodland and into forests full of larches, golden in the autumn.
If you're going the distance between Sheffield and the brilliantly named Glossop, you'll also pass the Ladybower Reservoir, where there are places aplenty to stop off and enjoy the scenery.
As you can see in the screenshot below, there are rapid chargers at either end of the route from a variety of providers – so a quick 20-minute charge should serve you well before heading off to wind along the Snake Pass.

Three Lochs Forest Drive, Scotland
Along the seven-mile stretch that is the A281 in Scotland, you may be able to spot wildlife roaming the area. Also known as the Duke's Pass, the journey takes in views of Loch Achray and will certainly be remote enough for couples wanting to get away from it all.
As you can see in the screenshot below, which is filtered for rapid charging options, the surrounding area is fairly well served for high-speed charging devices, if you're needing to charge up quickly en route.
These are mostly provided by ChargePlace Scotland, but there are also some Osprey and bp pulse chargers around Dunblane and Stirling if you are approaching from that direction.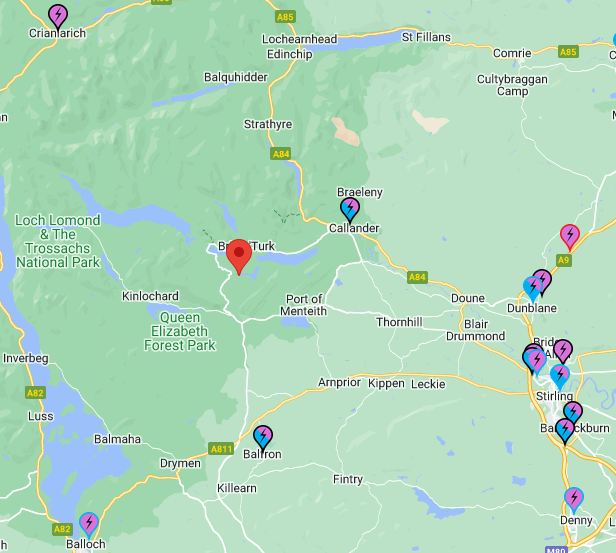 North Antrim coast, Northern Ireland
You'll be spoiled by non-stop sea views on this almost 50-mile coastal drive from Larne to Ballycastle, and Game of Thrones fans will be treated to a filming location along the way, although anyone can appreciate the beauty of the mysterious Cushendun Caves.
There are a number of chargers along the route, which you can take advantage of while you explore the many points of interest along the coastline. Madman's Window is only a 25-minute stroll along the coastal path from New Road car park in Glenarm, where you'll find two 22kW ecarNI chargers. Glenarm Castle is only a 10-minute walk from this charging location too so it's a great spot to utilise for a battery top up.
You'll be wanting to visit Cranny Falls, and luckily there's a handy charge point located in Carnlough car park, just a 25-minute walk to the waterfalls via the country pathways.
The Giants Parlour should make your list of places to explore, and you can park up and charge at the DRD car park in Ballycastle as the coast is just a 20-minute walk through the quiet holiday town. Both of these charging locations also have two ecarNI 22kW chargers available.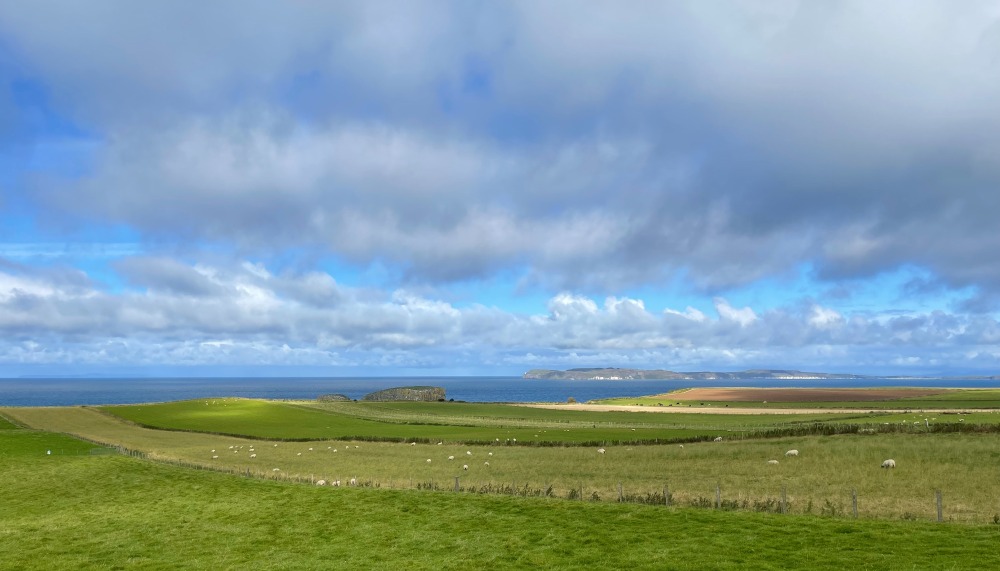 Routes to romance
We hope the routes above provide some inspiration for affection. And remember that whichever route you take, Zapmap can help you and make life that bit easier, whether it's searching, planning or paying for charging.
Plus, don't forget to take advice from other EV drivers who have been there before.
"When you are planning your journey, make sure you check out any comments from Zapmap users for valuable info," says Zapmap Co-founder & COO Melanie Shufflebotham.
"On Zapmap you can check out the chat channel on individual charge points, and you will see feedback on charge experience and other info, such as whether there is a coffee shop nearby – plus pictures to help you locate the charger."

With that, we wish you the best of luck on your romantic road trips – and safe driving!