The latest figures from The Society of Motor Manufacturers and Traders (SMMT), which detail new car registrations in November 2021, have a story to tell.
First off, sales of plug-in vehicles accounted for more than 28% of overall sales last month, the highest market share for plug-in vehicles since April 2020, when the lockdown resulted in some rather anomalous figures. What's more, the market share of battery-electric vehicles (BEV) grew by 110% compared with November 2020, increasing from just over 9% last year to 18.8% this year.
Demand for BEVs certainly remains high, although November's sales of 21,726 didn't quite reach the heights of September's 32,721 figure. In terms of market share, the growth of the BEV segment on last November was not only encouraging, but pronounced. Plug-in hybrids (PHEV) also increased their year-on-year market share, but only grew by just under 40%.
In contrast, sales of diesel vehicles dropped by almost 63% compared to November last year, with petrol also decreasing by more than 10%. Fewer than 6,000 new diesel vehicles were sold last month.
See the Zap-Map graph below for the number of new plug-in registrations by month over the past year.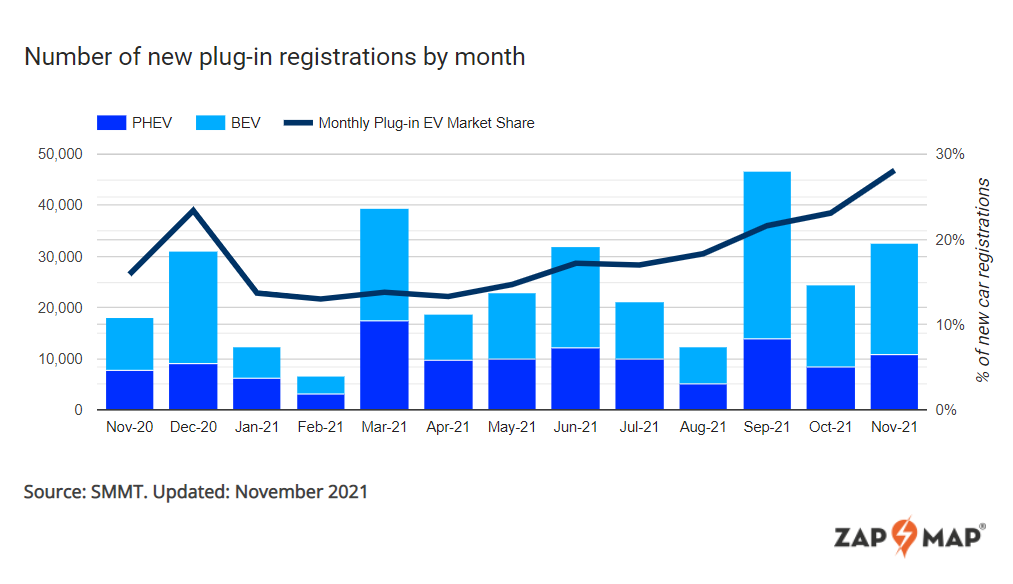 November 2021 saw a total of 32,522 new electric vehicle registrations, comprising 21,726 BEVs and 10,796 PHEVs. This takes the cumulative total of plug-in vehicles on UK roads – as of the end of November 2021 – to over 705,000. That total comprises around 365,000 BEVs and 340,000 PHEVs.
So far in 2021, there have been more than 163,000 sales of BEVs in the UK, with over 106,000 sales of PHEVs.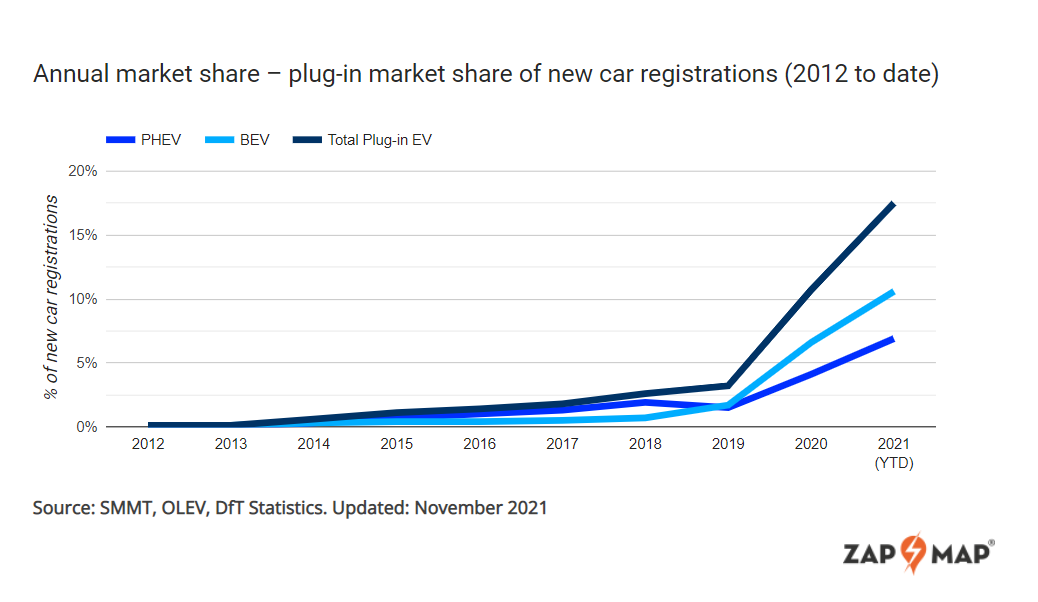 Last month's sales saw market share grow again for plug-in vehicles, which made up 28.1% of overall vehicle sales. So far in 2021, this means that plug-in vehicles represent 17.5% of market share, with BEVs at 10.6% and PHEVs at 6.9%. The three figures have continued to rise steadily throughout the year.
Last month also saw the Tesla Model 3 break into the top ten cars sold in the UK for the third time this year. At number three on the list, the Model 3 sold 3,077 models in the UK in November. The Tesla Model 3 also took the top spot in June, and reached fourth place in March.
What's more, important steps forward are also being made in terms of the UK's EV charging infrastructure. Only last week, rapid charging network Osprey opened the UK's first dynamic EV charging hub in Wolverhampton. The site is the first of over 150 charging hubs being delivered across the UK by Osprey in a £75 million programme to alleviate charging anxiety ahead of the 2030 ban on petrol and diesel cars. Elsewhere, the London borough of Hammersmith and Fulham is also set to hit 1,000 EV charging points by Christmas.
Looking ahead to the New Year, on-street charging networks Connected Kerb and Charge My Street are expected to go live on Zap-Pay – the simple way to pay for EV charging across networks from within the Zap-Map app – having recently signed up to join the Zap-Pay partner network.