The largest ever UK electric vehicle (EV) charging hub has been officially opened today at the NEC Campus, Birmingham.
The Gigahub™ boasts the ability to simultaneously charge 180 EVs via its 15 ultra-rapid 300kW charge points, of which two are designated accessible bays, and its 150 fast 7kW charge points, which include further designated accessible bays.
"This is the biggest private investment in electric charging in the UK and is a huge vote of confidence in Britain's role as a leader in green industries," said the RT Hon Jeremy Hunt MP, having visited the site to officially open it.
"The ground-breaking site will be a major transport hub for the future and marks a significant step in our rollout of electric vehicle charging infrastructure across the country".
It is estimated that the site will serve over seven million visitors to the NEC campus annually, as well as other road users looking for nearby EV charging.
The EV Network (EVN) as investor for this multi million-pound project, designed, developed, and constructed the EV charging Gigahub™ after signing a long-term contract with the NEC Group to bring EV charging infrastructure to the entire campus and working with bp pulse on several projects launched throughout 2023.
"The transition to electric vehicles is evolving at pace which is why bp pulse is focussed on accelerating the development of the UK's EV infrastructure, delivering the right charging speeds, in the right locations and investing up to £1 billion to do so," said Akira Kirton, vice president of bp pulse UK.
"This new, nationally significant bp pulse Gigahub™ at the heart of the UK's road network, is another great example of our strategy in action.
"We plan to roll out hundreds of hubs this decade in places EV drivers need them - urban areas, on trunk roads and motorways and at destinations such as restaurants, retail parks and hotels."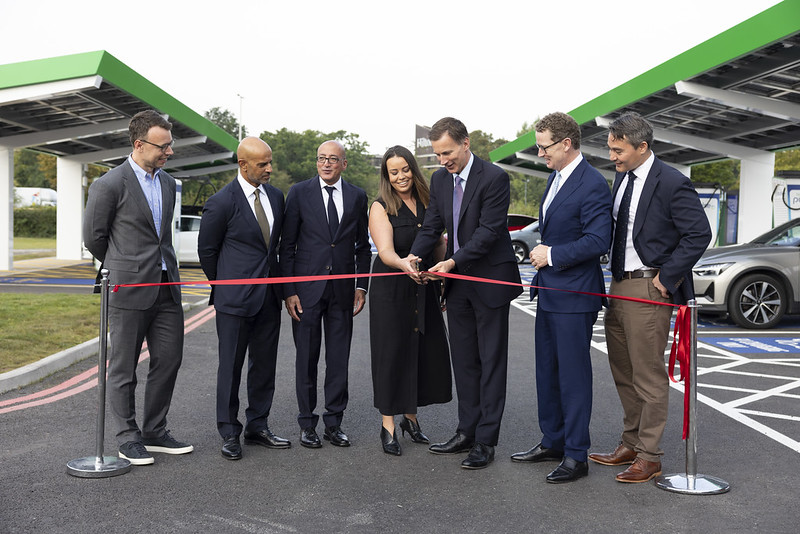 The RT Hon Jeremy Hunt MP cuts the ribbon at the gigahub opening ceremony.
bp pulse is a Zapmap dynamic data partner, meaning that the live status and availability of its charge points, as well as clear pricing, is available within the Zapmap app and web map.
"We are proud to contribute to the UK Government's Electric Vehicle Infrastructure Strategy. Working in collaboration with EVN and bp pulse, the opening of our EV charging hub provides NEC Campus customers, commuters, and those working for local regional or national businesses, a reliable and convenient way to recharge and support a lower carbon travel future," said Paul Thandi CBE, DL Chairman of NEC Group.
"This strategic collaboration and initiative strengthen our destination offer, demonstrate our commitment to reducing the impact our business practices and our Masterplan credentials have on the environment, and ultimately supports a reduction in carbon emissions."