With several major networks already offering a pay as you go (PAYG) service for charging points, it is set to be the norm by the end of 2015.
Membership schemes and wallets full of swipe cards will soon be a thing of the past as networks have either switched to a PAYG service or have plans to implement one in the near future.
At the moment both the major UK networks, Charge Your Car (CYC) and POLAR (owned by Chargemaster), offer an Smartphone App that allows you to pay for your charging via direct debit as you go, presuming there is a fee.
The PAYG service supplied by POLAR and CYC does not constrict you to their network points alone it is compatible with any network compliant with the Open Charge Point Protocol (OCPP). UK charge point manufacturers that are part of the UKs OCPP are Chargemaster (POLAR), CYC, DBT, ABB, Elektromotive and Siemens.
Currently all of the networks, including CYC and POLAR, have annual membership schemes that are usually free or offer a one off payment. In return you obtain a swipe card to access the respective networks charge points.
There is some crossover between some networks, e.g. the CYC, GMEV and Source West can all be accessed via one card. However, in general using more than one network with the swipe card system results in confusion for EV drivers and a wallet full of swipe cards!
Most networks have now announced that by the year they will be predominately switching to a PAYG method for accessing charge points if not at the end of 2014 definitely in 2015.
The Smartphone App seems like a good way to go unless you don't have a Smartphone that is. The alternative was announced last year by Rolec: a chip and pin EV charging point.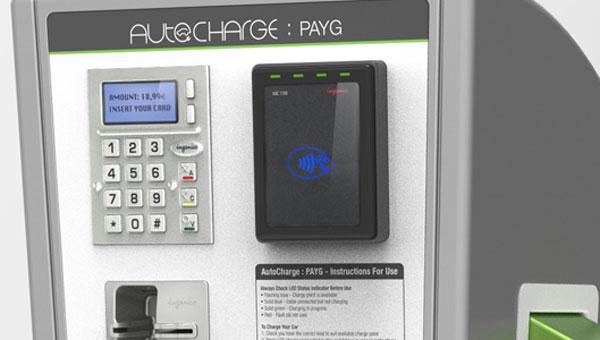 Rolec have developed a practical solution to the EV driver's network dilemma. They have created the AutoCharge PAYG charging point which employs the "tried and tested bank secure chip and pin payment system". It not only is a system that the public are comfortable with it also has the added benefit of being available to anyone and anywhere. Rolec's mission statement is in fact "EV Charging : Open to Everyone, Everywhere, Every Day".
It will be interesting to see the development of EV charging in the next few years as there many changes poised. Will networks take to the classic chip and pin system or will they try to maintain ownership with their own Apps?
Become a member of Zap Map to stay in touch with latest updates.