The Society of Motor Manufacturers and Traders (SMMT) has released the latest figures on new car registrations in December 2021. The figures not only complete the numbers for 2021 as a whole, but come alongside new Zap-Map statistics on the growth of electric vehicle (EV) charging infrastructure last year.
First up, plug-in vehicles comprised an impressive 33% of overall vehicle sales in December, with battery-electric vehicles (BEV) accounting for a quarter of all new car registrations last month. This means that plug-in vehicles represented 18.6% of market share in 2021.
Indeed, 2021 saw the largest-ever annual increase in the number of plug-in registrations, which grew by 74% on 2020. Last year saw 130,000 additional plug-in vehicles sold compared with the number in 2020.
However, it's not only sales of BEVs and plug-in hybrid vehicles (PHEV) that are growing. The UK's charging infrastructure also grew significantly in 2021. There are now almost 30,000 public charging devices across the UK, thanks to a 34% increase overall in the number of UK charging devices since the end of 2020.
In particular, the number of ultra-rapid charging devices in the UK grew by 65%. These 100kW+ chargers enable EV drivers to add more or less 80 miles of charge in around 15 minutes.
"Electric vehicles are now the norm. Sales accelerated throughout 2021 and so did the public charging infrastructure," said Melanie Shufflebotham, Co-founder & COO at Zap-Map.
"There are nearly 30,000 public chargers in the UK, an increase of more than a third since the end of 2020. And the number of ultra-rapid chargers, which are key for drivers who need to top up miles quickly, increased especially fast — 65% growth in the year."
What's more, a new Zap-Map poll has shown high satisfaction among EV drivers, who are also increasingly confident about driving long distances.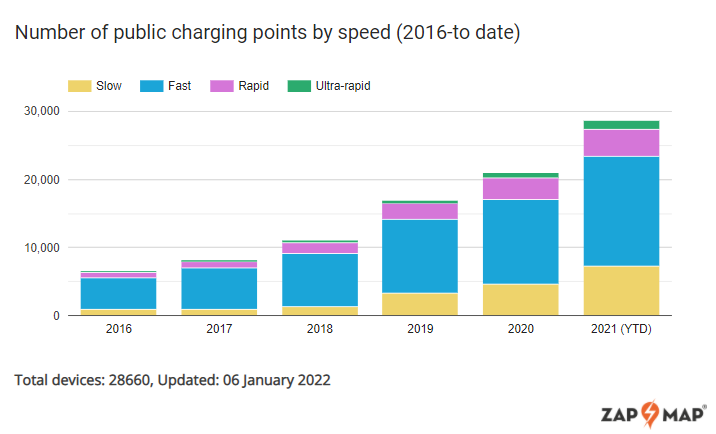 "Charge points are now a common site are your local supermarket, service station, restaurant and retail park, and our research shows drivers who have made the leap to electric have no urge to go back. But we do need charging to keep growing at pace this year to make sure charging is simple for the next generation of EV drivers," Shufflebotham added.
See the Zap-Map graph below for the number of new plug-in registrations by month over the the course of 2021.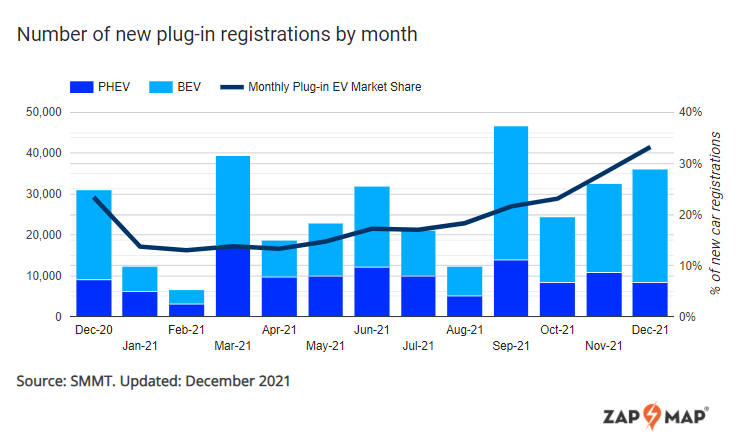 December 2021 saw a total of 36,041 new plug-in vehicle registrations, comprising 27,705 BEVs and 8,336 PHEVs. This takes the cumulative total of plug-in vehicles on UK roads – as of the end of December 2021 – to over 740,000. That total comprises around 395,000 BEVs and 350,000 PHEVs.
Overall in 2021, there were more than 190,000 sales of BEVs in the UK, with over 114,000 sales of PHEVs.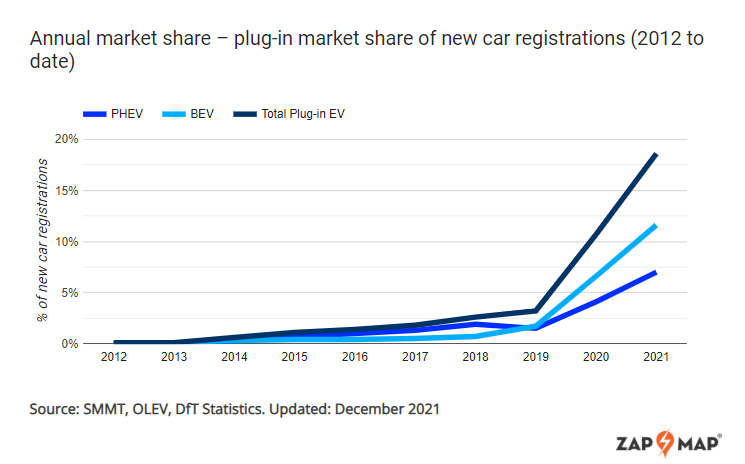 Last month's sales saw market share grow again for plug-in vehicles, which made up 33.2% of overall vehicle sales. This means that plug-in vehicles represented 18.6% of market share in 2021, with BEVs at 11.6% and PHEVs at 7%. The three figures rose steadily throughout 2021.


December 2021 also saw the Tesla Model 3 and the Nissan Leaf in the top ten cars sold in the UK. Taking top spot, the Model 3 sold 9,612 models in the UK in December. In 10th place, 1,578 Leafs were sold last month.
What's more, important steps forward are also being made in terms of the UK's EV charging infrastructure. See Zap-Map's thoughts on what's coming for electric vehicle charging in 2022, as well as the progress the UK made in charging infrastructure in 2021: A year in review.
Looking ahead, charging networks GeniePoint and MFG EV Power are scheduled to go live in the coming weeks on Zap-Pay, the simple way to pay for EV charging across networks from within the Zap-Map app.