With temperatures soaring and the summer holidays upon us, many of us will be driving up and down the country in search of sea, sand – and probably some shade too. Given that the Met Office has issued a four-day amber warning of extreme heat, it's worth being careful and taking some precautions – not only for ourselves, but for our cars too.
Although hot weather can cause problems for cars in general, from tyre issues to overheating, here are some top tips for looking after your electric car in the hot weather.


 
Top tips to look after your EV in hot weather
First up, let's start with the tyres. Not only can higher temperatures affect tyre pressure, but electric cars tend to be heavier than petrol and diesel vehicles, making them more prone to faults in this area.
"Check those tyres," says EV road-tripper and Zapmap user Paul Amess, who has been driving an electric car since 2016, and recently upgraded to the Nissan Leaf MkII. "Not only will an incorrect tyre pressure reduce the range that your car is capable of, it will also cause unnecessary wear and tear to the tyres and might even affect the handling of the vehicle."
Even if just once a month, or before a longer trip, make sure to take Paul's advice and check your tyres on a regular basis.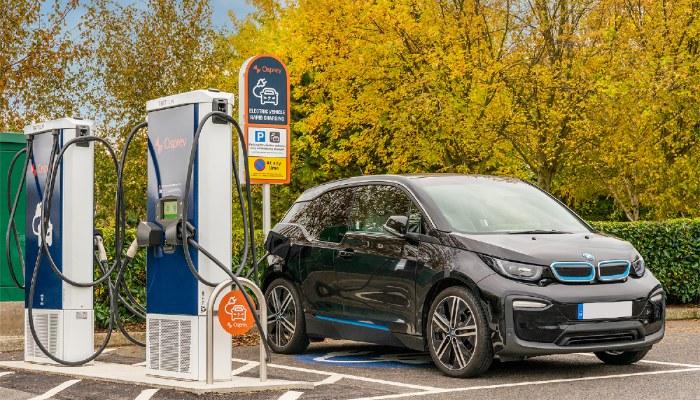 Only charge your electric car to 80%, especially in hot weather.
Take care of your battery
Second, you'll want to take particular care of your car battery during the heatwave. Electric cars' lithium-ion batteries work most effectively between 20-25°C, and extreme temperatures can both reduce range and even damage the battery. In general, warmer weather tends to reduce charging times. However, if the battery overheats, the charging speed could decrease, or charging could stop altogether as a safety measure.
It's worth moving your car into a parking spot in the shade if you can, to avoid overheating – plus your EV could even lose charge if left out in the sun for too long. Charging overnight, or in the early morning and late evening when it is cooler would also be preferable.
Of course, one way to avoid any issues is to avoid driving altogether and take an alternative means of transport. However, if driving is your only real option, it's best to avoid driving during the hottest part of the day, which is generally between 12pm and 3pm. Driving at a cooler time in the day will help to prevent any damage to your car's battery.


 

On longer journeys in hot weather, it's even more important to plan your route.
Use your EV's mod cons
Once on the road, you'll likely be driving in the full glare of the sun – morning or evening. It's important to look after yourself too of course, not just your EV – and keeping cool and hydrated is a must.
Using the aircon in your car is an obvious way to keep cool. However, be aware that it can reduce the range of your electric car by around 17%.
"The overall range is slightly lower," says Bristol resident and foodie Cameron, who drives a Kia e-Niro, which he parks on a very sunny driveway. "It's so hot it's taking more to cool the car down."
The good news is that many new electric cars have preconditioning. This means you can cool down your car before setting off and avoid draining the battery while on the road.
"On my Nissan Leaf, there is a useful app that can be used to remotely start or stop charging, among many other things," says Paul. "More and more manufacturers are offering apps for their new cars, and it's important to get to know this app as soon as possible, otherwise you may be missing out," says Paul.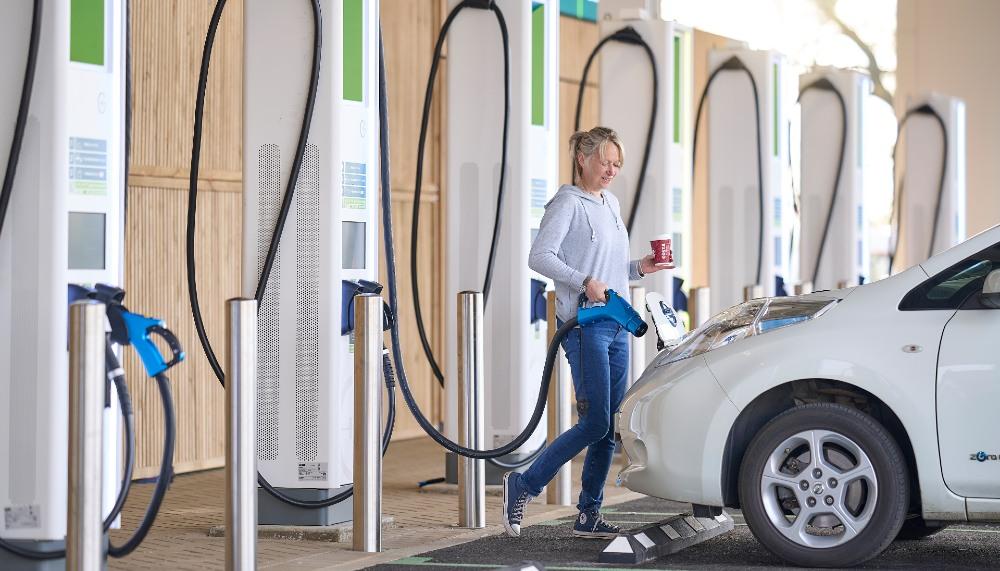 If the battery overheats, it can cause cell degradation.
Only charge your EV to 80%
Another useful tip – especially relevant in the hot weather – is to only charge your electric car to 80%, which will prolong the battery life.
"Most electric car drivers only charge their car once a week or so, and many just 'top up' rather than wait until the car is almost out of electrons," says Gill Nowell, Head of EV at LV= General Insurance and ElectriX. "It's a good idea to keep your car charged to about 80%, to keep the battery in a good state of health."
In contrast, if you charge the battery to 100% it can overheat. This could cause cell degradation, meaning that lithium battery cells lose their ability to charge at their original rate.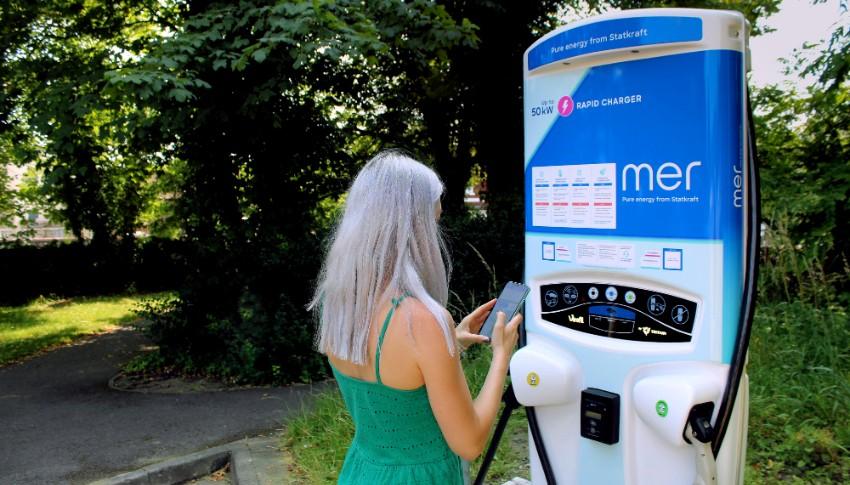 Try to find a charge point with some shelter if possible.
Declutter your electric car
There are also ways to ensure you get the maximum range from your EV during the heatwave. If your car offers an 'Eco' mode, for example, it will effectively dampen the acceleration and help to save you miles of charge.
Many EVs also have regenerative braking systems – whereby the car recycles power back into the battery – that allow you to choose the strength of the regen. The stronger the level you choose, the quicker the vehicle will slow down as you take your foot off the accelerator, and the more miles you will save.
Road-tripper Paul has one more tip. "Declutter the car," he says. "Carrying extra weight only makes your car use more fuel, and this is totally true for EVs as well as your fossil fuelled cars."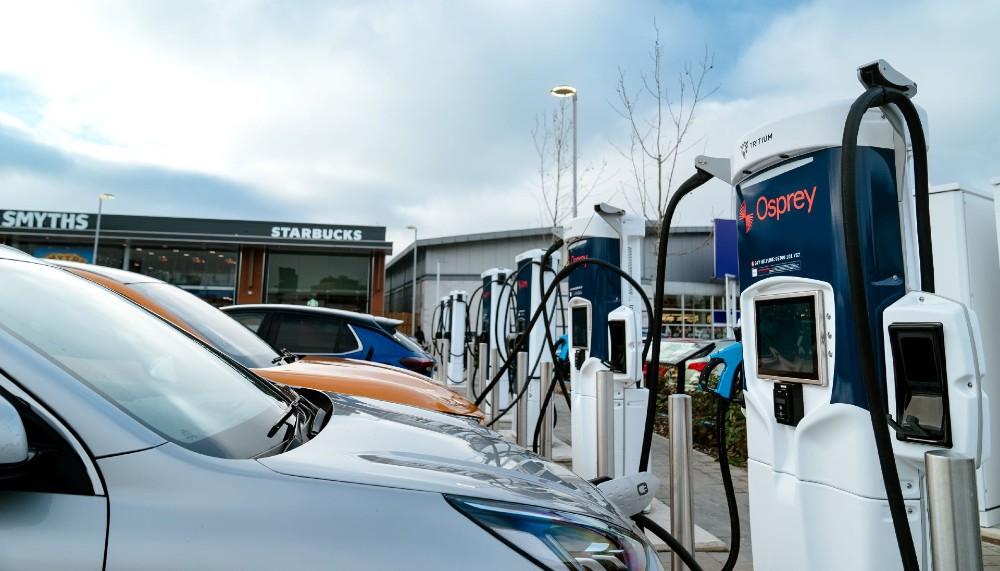 During the heatwave, plan your route spots based on facilities at charging points.
Plan your charging stops
If you're going on a longer journey, it's even more important in this weather to plan your route, and your charging stops, appropriately. With temperatures soaring, you'll want to find a charge point with some shelter if possible.
"Plan your route with multiple charging options," says Zapmap user Rowan. "We plan our spots based on facilities at charging points. A 20-minute charge is the perfect time for coffee or a coke."
Plus, if you're stopping in a town or city to pick up food from a supermarket, for example, you might be able to find a fast destination charger underground to keep your car cool while you're shopping.
To search and plan for places to charge, Rowan and his wife use Zapmap, specifically the route planner, which allows EV drivers to plan a route in their electric car, based on journey parameters, EV models and driver options. The planner has three different routing modes – Autoroute, Suggest chargers and Show all chargers – and you can save and retrieve routes within the mobile app or in-car system.


 
We hope you find these tips helpful. Stay cool, and here's wishing you a smooth electric journey from Zapmap!