March and April best ever months for new EV chargers. New charger installation rate up 75% vs 2022
New figures from Zapmap show that March and April 2023 were both record months as the number of new EV chargers installed in the UK hit new highs.
The average number of new chargers installed per month in 2023 to date has increased by 75% compared to the same period in 2022.  
More than 2000 new chargers were installed in both March and April taking the total past 42,000.
The new EV charging statistics show 2080 new charge points were switched on in April 2023, and over 6400 so far in 2023. This is an increase of 14% in net new chargers since the beginning of 2023 and 35% since this time last year.
The rate of charge point installations has increased significantly in 2023, with an average of 1625 new chargers being installed each month compared to 914 per month across the same period in 2022 and 1115 per month across the whole of 2022*.
The increase in new ultra-rapid charging points that can deliver a full charge in as little as 20 minutes was 655. That brings the total number of ultra-rapid chargers to 2869 – a 25% increase in net new chargers available since the beginning of 2023 and a jump of 79% on this time last year.
An additional 3415 fast chargers, typically found in car parks or destinations and 1828 slower chargers that are used in residential streets and workplaces also came on stream. There are now 42,556 public chargers in use in the UK.
Last month saw the launch of ChargeUK, bringing together 19 leading companies responsible for the UK's charging infrastructure. At the time they announced £6 billion of investment and plans to double the number of charge points in 12 months.
Melanie Shufflebotham COO and Co-founder at Zapmap said:
"The charger rollout is gathering pace both with high-powered chargers to support en-route charging, and also more local charging where it is needed to support charging closer to home.  Evidence suggests that this is set to continue across 2023 which is good news for EV drivers and those thinking about going electric. 
"Zapmap is committed to help EV drivers with the best information on charging whether they are on longer journeys or finding a charge in their vicinity. A growing and robust public infrastructure is critical to give EV drivers confidence when out and about."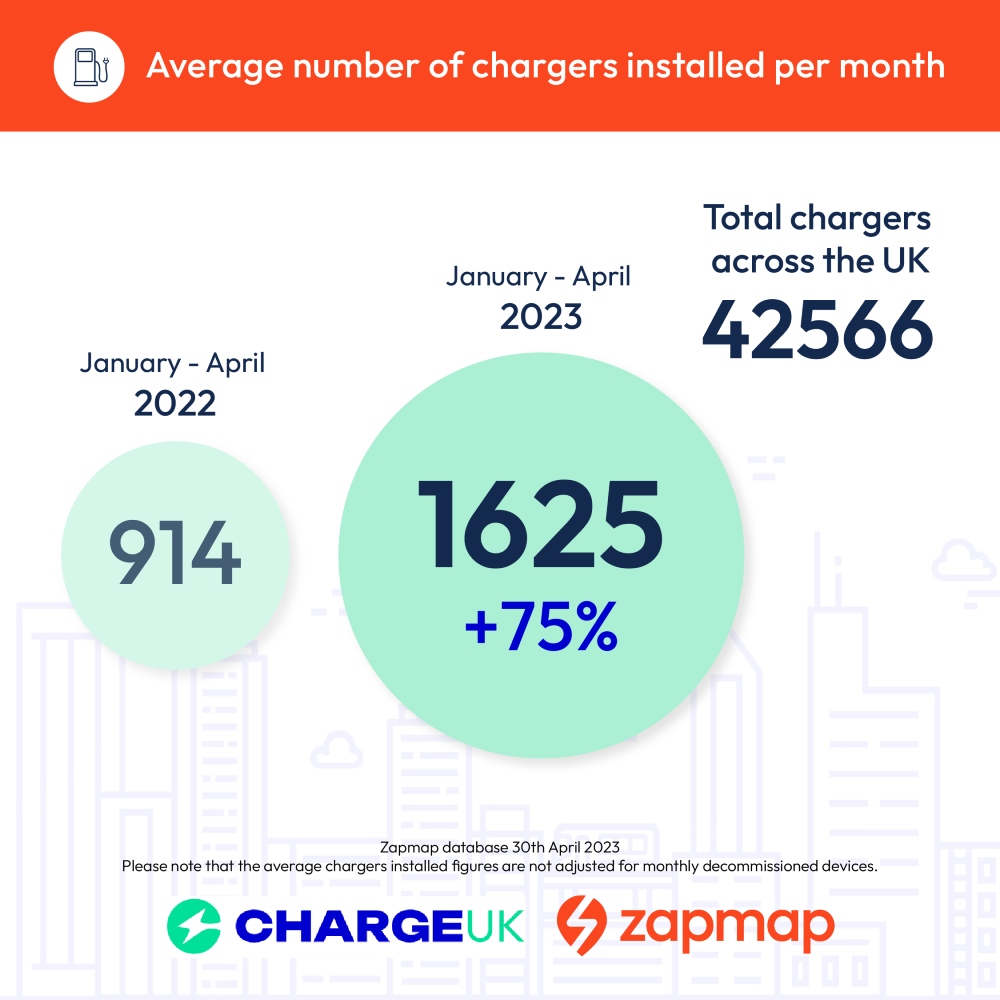 Chair of ChargeUK Ian Johnston said:
"These figures show the huge step-up in deployment of EV charging infrastructure that is underway in 2023, which will give further confidence to those considering making the switch to an electric vehicle. The rate of deployment is increasing month-on-month but we can go much faster with the right policies and help from Government to remove the barriers that are currently constraining the roll-out.
"These new statistics combined with the investment the members of ChargeUK have already committed to confirm the UK's position as one of the best places in the world to run and charge an electric vehicle. We must maintain that advantage in the global marketplace and in the race to Net Zero."
*The figures quoted are new charge point installations tracked by Zapmap over the period. At the same time some older legacy chargers are being decommissioned. Thus the net new number of chargers added to the charge point network in 2023 YTD is lower than the number of new chargers. In 2023 year to date the net new chargers added is 5305 vs. 6499 newly installed chargers - i.e. there were 1195 decommissioned devices.