There are more than three million electric vehicles on the road worldwide according to data collated by ZSW – the Centre for Solar Energy and Hydrogen Research Baden-Württemberg.
The non-profit organisation puts the figure for the start of 2018 at 3.2 million EVs sold globally, with electric vehicles, range extended vehicles, and plug-in hybrids making up that number.
China is the world's leading EV market, accounting for more than a third of total sales, with 1.2 million EVs on the country's roads. The United States of America and Japan round out the top three performing nations, with the rest of the top 10 made up of European countries apart from Canada.
The UK sits in sixth place overall, and along with a number of other countries such as Norway, Sweden, and the Netherlands, punches well above its weight if you consider EV sales as a proportion of the nation's population.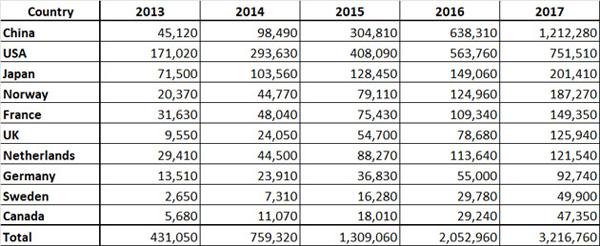 The best-selling EV manufacturer is unsurprisingly Nissan, though its not far ahead of competition from the likes of Chinese manufacture BYD and Tesla.

Tables courtesy of ZSW
The new Leaf should help boost its market presence, but the pace at which the Chinese car market is moving forward means it's almost inevitable that the Japanese manufacturer will lose the global top spot soon. Nissan's line-up remains a clear market leader globally if you exclude Chinese sales though.

Tables courtesy of ZSW