Swedish electric vehicle (EV) manufacturer Clean Motion has unveiled a small electric delivery vehicle with a solar roof, the Re:volt. It is the company's second EV after the Zbee electric tricycle, which was presented in 2012. 
The new van for the last mile offers a range of up to 250 miles, and will go into production from autumn 2022. The range specification includes 60 to 80 miles from electricity generation via the vehicle's solar roof. When the sun is not shining, however, the range is much more limited – the Swedish company gives a range of 40 to 170 miles without solar support.
"We are not alone in integrating solar panels into electric vehicles. What is unique is the energy efficiency of our vehicles, which means that the solar roof can make them self-sufficient in energy," says Göran Folkesson, Managing Director of Clean Motion.
"It also means that with only 40 kg of batteries we can offer a range of 280 km, which will suit northern latitudes where the sun is not a reliable energy source."
According to the Clean Motion website, pre-orders for the Re:volt will be accepted "soon". The manufacturer is already quoting a price of "from 9,000 euros".
With its compact dimensions of 3 metres in length, 1.4 metres in width and 1.7 metres in height, the new model should compete in the mini-van segment and score as a delivery van with "minimal charging requirements". Clean Motion gives the power output as 4 kW, with the solar cells contributing 600 watts. The battery capacity varies between 2.5 and 10 kWh. The company does not specify the charging technology, but in view of the small battery, charging from a household plug is likely to be the most common application.
Weighing only 250 kilograms, the Re:volt can carry a maximum load of 700 kilograms. The manufacturer says the load space is 2,500 litres. The vehicle makers say this model is small on the outside but big on the inside and describe the design is simple and functional. Thanks to the modular design, the vehicle can be easily configured according to customer wishes.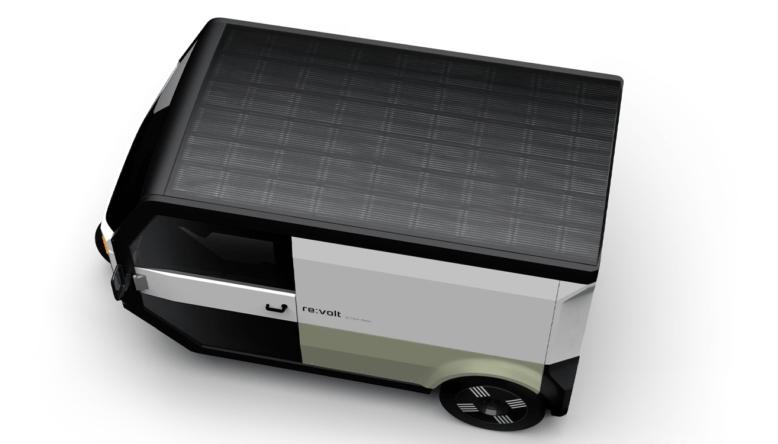 The Re:volt is simple and functional in design.
"The market for environmentally-friendly last-mile deliveries is huge and rapidly growing, but the range of vehicles that can really replace the old fossil-fuelled vans is not that exciting," said Folkesson.
Production of the Re:volt is expected to start in autumn 2022. Clean Motion is currently looking for companies with different transport needs to give feedback and contribute to the adaptation of final details. The goal is to create a comprehensive customer offering for the European transport market.