Although the UK's public charging network is growing steadily, it can be hard to find suitable charge points while driving an electric car.
That's why we launched Zap-Map Plus and Zap-Map Premium – two enhanced versions of the app designed to help EV drivers plan quicker and drive smarter.
So why are EV drivers upgrading to Zap-Map Plus and Premium? Here we take a look at drivers' motivation for upgrading to either Plus or Premium.


For starters, Plus and Premium are for electric car drivers who regularly use the UK's public charging infrastructure. With more drivers using public chargers than ever before, more people are upgrading to Plus and Premium too.
More or less half tend to opt for Plus, and half for Premium. So if you often charge your car on the public network, it's worth exploring which option best suits you.


Zap-Map Plus: Plan quicker
On top of Zap-Map's core services – which remain free and allow you to search, plan and pay for charging – Zap-Map Plus saves you time when out and about in your EV.
From more easily navigating to locations using what3words through to filtering out single chargers for multi-charger sites, Plus is helpful for drivers who frequently plan routes.
There are a couple of reasons in particular that EV drivers upgrade to Plus. First, seeing which chargers are labelled 'new' would appear to be the clincher, enabling Plus users to identify the newest charge points (30 days old or less) and find them more easily.
Another motivator is the ability to save multiple routes, which makes plotting routes frequently that much simpler. Indeed, according to one Plus user, "Planning longer journeys is the key use case" and, for him, the extra route plans are what make Plus "worth it."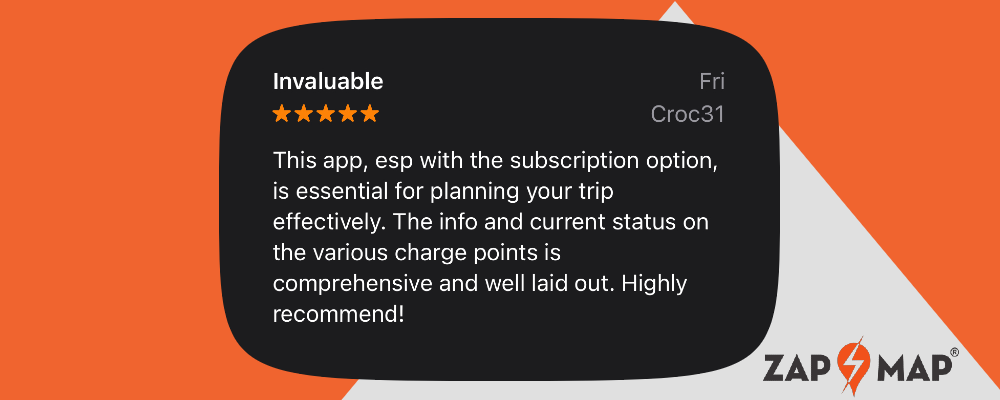 Zap-Map Premium: Drive smarter
On top of the enhanced features and filters of Plus, Zap-Map Premium incorporates the app into your car's dashboard through Apple CarPlay or Android Auto.
From our analytics, we know that Premium users like to view chargers on the in-car dashboard, as well as link to navigation apps, enabling them to find and arrive at a suitable charger quickly and easily.
But what are users themselves saying? Why do EV drivers use Zap-Map Premium?


Well, in some cases, Premium appears to help EV drivers in maximising the range of their electric car, especially if it's an EV with a shorter range, because they can see route plans and live charger statuses on their dashboard while driving.
"Without this app, I couldn't travel the length and breadth of the country in an EV," says Michael in a Google Play Store app review. For Michael the in-car support from Zap-Map is essential. "Best feature: integration into Android auto," he continues. "Was on the free version, finally upgraded to Premium and worth every penny."



Premium helps EV drivers maximise the range of their electric car.
However, it's not simply the integration with Apple CarPlay and Android Auto in itself that makes Premium worth it for EV drivers.
"Zap-Map Premium gives the driver lots of options to configure to their preferences, like preferred networks, speed of charge, distance from the route," says Zap-Map Premium user Shayne. "A real confidence booster for drivers of lower range EVs."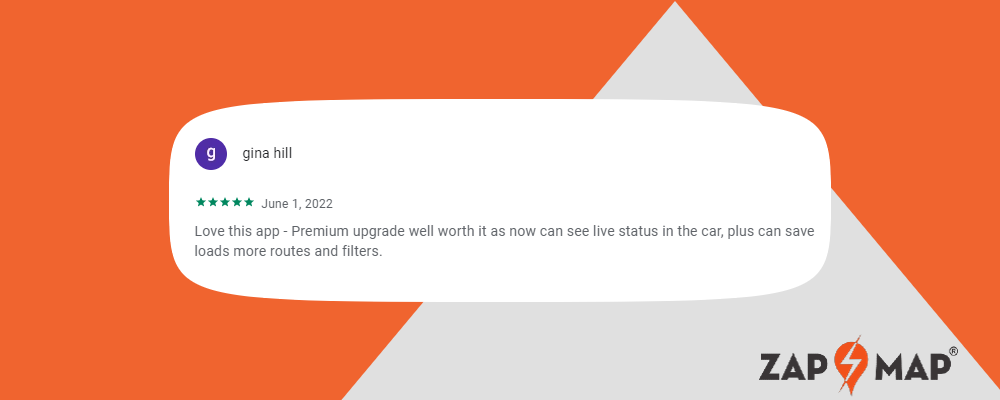 Zap-Map Premium makes planning simple
In part, Zap-Map Premium helps users like Michael and Shayne to maximise their range because it makes using route plans easy. As Shayne puts it, "The live status is handy and makes planning super simple."
What's more, if you're off on a longer journey or a summer getaway, using Premium means you can also bring up the list view on your car's dashboard. This can be particularly helpful when you don't know the area so well.
"Zap-Map Premium gives me information that is really useful when I'm on the move and it gives it to me in a way I can easily use," says John Curtis of the EV Rally of Great Britain. 
"I can have a list of charge points so I can choose where I want to go. I can set up routes. And it's just brilliant, it makes life an awful lot easier," John continues. "The map shows where I am, how many charge points there are around me, where the nearest ones are and whether they are available or not, which is fabulous."


To get a free trial of Zap-Map Plus or Premium, and see which option works best for you, go into Settings in the Zap-Map app. Click into 'Subscriptions' and then 'View subscription plans'. The free trial is available on the annual plan.
You can also compare Zap-Map features, with the differences between Zap-Map, Zap-Map Plus and Zap-Map Premium outlined side by side.
We'd like to point out that Zap-Map's core services – which allow you to search, plan and pay for charging – remain free.